Pew research reveals very different views on whether countries are better off today
Thirty years on, few people in Europes former eastern bloc regret the monumental political, social and economic change unleashed by the fall of communism but at the same time few are satisfied with the way things are now, and many worry for the future.
A Pew Research Center survey of 17 countries, including 14 EU member states, found that while most people in central and eastern Europe generally embraced democracy and the market economy, support was far from uniformly strong.
Up to 85% of people approved of the shift in Poland, eastern Germany and the Czech Republic, for example, but fewer than 55% did so in Bulgaria, Ukraine and Russia. This broadly mirrored very different perceptions of how individual countries had progressed since the momentous events of 1989-91, when a wave of optimism swept Europe as walls and regimes fell, ushering in more open societies and markets, the surveys authors said.
Most Poles, Czechs and Lithuanians, and more than 40% of Hungarians and Slovaks, for example, said they felt most people in their countries were better off than 30 years ago; in Russia, Ukraine and Bulgaria, more than half felt things were worse.
Asked how they felt their countries had advanced, central and eastern Europeans were most positive about education (65%), living standards (61%) and national pride (58%). They were less happy about about law and order (44%) and family values (41%), and a majority (53%) said healthcare had got worse in the post-communist era.
But across all the former communist nations surveyed, people were mostly pessimistic about the functioning of the political system, and about specific economic issues like jobs and inequality, the surveys authors said.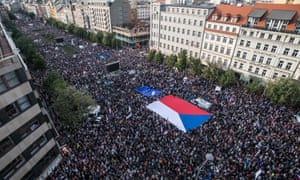 Source: http://www.theguardian.com/us