Top electoral authority stopped announcing new results without explanation, leading to fears of manipulation of votes
Protests have broken out across Bolivia after the countrys electoral authorities said that president Evo Morales was close to winning an outright victory in his bid for a historic fourth term in office.
The countrys electoral body abruptly stopped releasing election returns late on Sunday, prompting opponents to suggest that officials were trying to help Morales avoid a runoff vote.
At that point Morales had a lead of 45.3% to 38.2% over the second-place candidate, former president Carlos Mesa. Late on Monday, the body renewed its count and said that with 95% of votes counted, Morales led 46.41% to Mesas 37.06%.
Under Bolivian law, Morales would need a 10-percentage point advantage over Mesa to avoid a second round in December. The official final count is not due for seven days.
In a statement the Organisation of American States (OAS) expressed its deep concern and surprise at the drastic and hard-to-explain change in the trend of the preliminary results revealed after the closing of the polls and urged for calm.
Opposition groups have not heeded that call. Mesa, who had warned that the vote could be manipulated to avoid a runoff, called on Bolivians to conduct a battle in defense of the vote.
Police opened fire with tear gas as protesters clashed with government supporters outside local offices of the electoral tribunal in the capital La Paz, and the cities of Oruro, Potos and Cochabamba.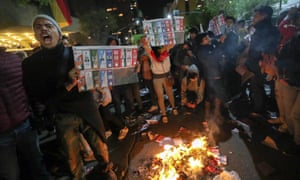 Source: http://www.theguardian.com/us