I suggest dyeing cafe owner black and white, says one critic over stunt in Chengdu
A cafe in China featuring chow chow dogs painted as panda cubs has prompted widespread criticism over the treatment of the pets.
The Cute Pet Games cafe opened last month in Chengdu in the south-west Sichuan province, home to a large proportion of the endangered bear species, featuring six fluffy chow chows dyed white and black.
A video of the dogs roaming around the cafe has gone viral on Chinese social media. In the video, posted by Chengdu Economic Daily, the owner of the cafe said it was also offering a dyeing service for 1,500 yuan (165) to patrons who wished to give their pets a similar makeover.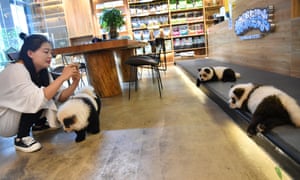 Source: http://www.theguardian.com/us