Obamas use of social media broke new ground in 2008 and 2012 but this time Trumps re-election campaign will have a head start
A leader of Barack Obamas historic digital election campaigns has sounded the alarm over Democrats failure to keep up with Donald Trumps social media behemoth.
The US president outflanked and outspent rival Hillary Clinton on the web in 2016 and, after three years building a sophisticated digital operation with a formidable war chest, will enjoy a head start over next years challenger.
It is a marked reversal of fortunes from a decade ago when young liberals ruled the internet and Obamas revolutionary approach to online organizing helped him to victories over Clinton and the Republican nominees John McCain and Mitt Romney.
Michael Slaby, the Obama campaigns chief technology officer in 2008 and chief integration and innovation officer in 2012, said: The difficult truth about the pace of media and technology evolution is that it doesnt sit still so, if youre not continuously investing, youre falling behind, and I think there was a bit of a moment on the left of, Hey, we won, we figured this out. Were great at this, that gave us a little bit of overconfidence.
There were some huge, very thoughtful and intelligent efforts on the right in 2013 to address weaknesses, catch up, do smart things and build data trust and build Breitbart and all these different projects. We have some really interesting, profoundly powerful organising groups that have cropped up post-2016 like Arena and Organizing Corps and Run for Something and Swing Left. Theyre very focused on organising; Im not saying that in a disparaging way. What they are not, though, is infrastructure.
There is an overdue need for a reimagining and rethinking, a modernizing of the underlying infrastructure on the left that hasnt happened yet.
The centrality of tech to the presidents re-election effort is spelled out by his choice of campaign manager: Brad Parscale, who was digital director in 2016 and bearded, 6ft 8in tall is now a familiar warm-up act at Trumps rallies. A year from the election, he is already spending millions of dollars more than Democrats to flood the zone of social media every day.
The Trump 2020 campaign serves up targeted adverts with often misleading messages about immigration, impeachment and other issues that would be rejected by traditional TV networks. It has mastered incendiary clickbait as a tool to pour oil on supporters grievances, bank their donations, sell them merchandise and absorb their data.
Washington norms are inverted online. The biggest political crisis of Trumps presidency is translated into an impeachment defense task force to fire up supporters and tap their wallets. Acting chief of staff Mick Mulvaneys recent comment to reporters, Get over it, widely seen as a politically costly gaffe, quickly manifested itself as a slogan on a must-have T-shirt.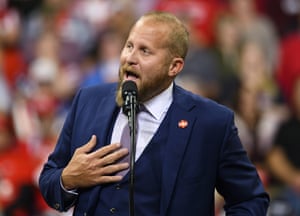 Source: http://www.theguardian.com/us