The 1999 adaptation of Chuck Palahniuks anarchist novel was misunderstood by some as an agent of chaos but it remains an eerily forward-facing film
When David Finchers Fight Club was released 20 years ago, it was a crystal ball that was mistaken for a cultural crisis, much like Do the Right Thing had been a decade earlier and perhaps Joker is now. Film-makers who were trying to identify a violence nesting in the culture were accused of trying to incite it or at least clumsily juggling lit sticks of dynamite. No less an authority than Roger Ebert opened his review of Finchers film by calling it the most frankly and cheerfully fascist big-star movie since Death Wish, echoing widespread concern that impressionable men would lock into the empowering brutality of Tyler Durden and the army that gathers around him. Viewed from a certain angle, it looked like a recruitment film.
What cannot be predicted, however, is how items like Fight Club will shift during flight. It becomes easier to appreciate the ambiguities of the film when it no longer feels like a clear and present danger. That doesnt necessarily mean that Finchers point of view isnt confusing or contradictory all these years later, but the culture tends to move quickly from threat to threat, and its helpful to have enough distance to see the world its depicting more clearly. Whatever you think about Fight Club in 2019, its probably not exactly what you thought about it in 1999, if only because so much of what it describes has manifested itself in the real world or been distorted beyond recognition.
Lets begin at the end, as the film does, when a series of detonations leads to the collapse of downtown office buildings. It wouldnt even be two years later that a terrorist cell would bring down the World Trade Center towers, those symbols of American financial might, and the motives of al-Qaida and the films Project Mayhem are not that dissimilar. Both were attacking the soft center of America as they understood it, except in Fight Club, the idea was to raze the country to the ground and start over, because consumerism had anesthetized it and hollowed out its soul. The final image of two people holding hands as the Pixies Where is My Mind? blares on the soundtrack could be seen as nihilistic, but its secretly thrilling to imagine the possibilities of starting over after a hard reboot. (It also helps to know that the explosions are about taking down institutions, not people, more The Weather Underground than Osama bin Laden.)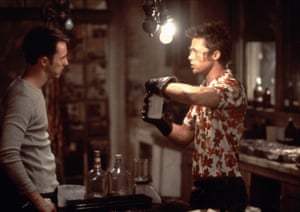 Source: http://www.theguardian.com/us