As the winter approaches the northern hemisphere, novelist Amy Sackville shares her favourite books about one of Earths remaining wildernesses
Ice is just cold, solid water, of course; essential for cocktails, and the survival of the planet. One-tenth of Earths land surface is covered in it, and up to 15% of the ocean for part of the year; one quarter of the land has ice buried in it year round. This unique substance volatile, ancient, quick, slow, frightening and beautiful creates spaces at the reaches of the earth and of the imagination that we cant resist returning to. It invites simile. It slips out of our grasp.
Tarjei Vesaass unsettling and lovely novel The Ice Palace, translated from the Norwegian by Elizabeth Rokkan, tells the story of an intense, half-understood bond between Siss and Unn, two schoolgirls. Full of longing and desire, full of the unknown, it is as dream-like and powerful as the frozen waterfall at its centre. Unn is lost, enchanted and disoriented by the chambers of this palace, by turns hostile and magnificent, and far too cold.
Another short, strange novel of the 60s, Anna Kavans Ice is more nightmare than dream. It is set in a world of nameless, ruined cities, freezing seas and dark forests, in which some obscure disaster has precipitated environmental collapse. Communication is failing, the media cant be trusted, conflict is rife, and ice is closing in, destroying everything in its path. The book falls somewhere between compelling spy thriller and cold war Kafka there are overcoats, paranoia, police states and a white-haired girl that the narrator is senselessly pursuing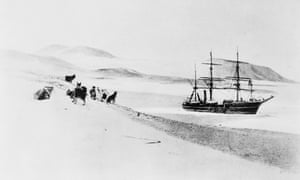 Source: http://www.theguardian.com/us