The ambassadors painfully humiliating new testimony reveals the real story behind the suspension of aid to Ukraine, says Guardian columnist Richard Wolffe
In every good disaster movie, we get to meet the easily dispensable character: someone who mixes just enough stupidity with just enough mediocrity to be cannon fodder for the impending calamity.
In the epic shipwreck of Donald Trumps impeachment, that man is Gordon Sondland.
Sondland first entered this feature-length catastrophe as an ironic counterpoint to the doomed buffoon who has alternately dismayed and disgusted us for the last three years.
To Trump himself, Sondland was once a Never Trumper who first globbed on to the low-energy Jeb before shifting his undying loyalty to little Marco. When neither of those Republican gods were able to confer any honor upon his wealthy shoulders, Sondland did what any principled conservative would do: he wrote a $1m check to Trump and asked for an ambassadorship.
To the rest of the world, the entirely expendable Sondland bears an uncanny resemblance to Trump himself. What kind of genius thinks you can lie to an impeachment inquiry by denying the whole quid pro quo deal with Ukraine? Who could ignore the risk that so many witnesses would spill their guts about your central role in the stitch-up of an American ally in desperate need of national security assistance?
Step forward, ambassador. Its time for your brief moment of infamy before you depart this drama, to return only as the answer to an obscure Jeopardy question.
Flanked by several lawyers, Sondland decided to review his initial testimony to the impeachment investigation that there was no quidding and quoing going on. Sondland explained, in four painfully humiliating pages of new testimony, that on second thoughts there was about $400m of military aid that was entirely quid to the quo of Trumps kooky obsession with smearing the Biden family.
By the beginning of September 2019, and in the absence of any credible explanation for the suspension of aid, I presumed that the aid suspension had become linked to the proposed anti-corruption statement, Sondland confessed.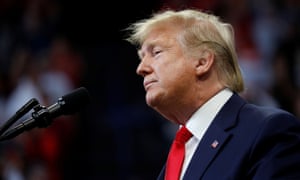 Source: http://www.theguardian.com/us