Burlington players took off their jerseys to reveal #EqualPay shirts and set in motion an extraordinary sequence of events
When the chant of equal pay rang around the Stade de Lyon the impact of the campaign being waged by the USA womens national team was on display to the world on the biggest of stages.
Few, though, could have predicted the butterfly effect in Burlington, a city in Vermont that would need its population to grow by approximately 16,000 to match the number that packed into the stadium to watch USA beat the Netherlands in the World Cup final.
But when Burlington high schools Helen Worden, part of that crowd in France, scored with three minutes left against South Burlington on 18 October there were wild celebrations. Out of the window went a plan to lift their jerseys to reveal the #EqualPay slogan emblazoned on shirts they had been selling and were wearing underneath. Four whipped off their match shirts and were booked.
The effect was electric. It was spontaneous, says the 16-year-old Ruby Wool. We had scored with three minutes left, we were so excited, our crowd was excited. The ref carded us, we kind of knew that was going to come with the excessive celebration, but we hoped that our intent was appropriate.
The team have received top-down support from the school district and the high school, to match the huge wave of support from below.
When we got our yellow cards all the crowd started chanting equal pay, Wool says. It was the same feeling [as they felt watching the World Cup]. I mean, on a smaller scale but it had the same kind of emotion and feeling behind it.
We are just inspired by the way they use their platform, adds her 14-year-old teammate Lydia Sheeser. They are obviously super well-known across the world and they take their fame and success and they put it towards helping every girl. The wage gap does not just affect girls in sports it affects every woman who has a job whos not getting paid what she deserves.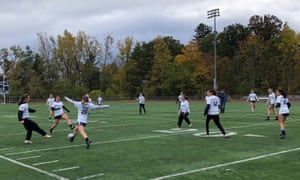 Source: http://www.theguardian.com/us