As the Tick fire rages, some residents take a stoic view of the perpetual threat. Others wonder if its time to move on
Marcia Cooper Marquez had ignored the calls to evacuate for hours.
But when, at midnight on Thursday, police began shouting outside her home in Canyon Country, California, about the approaching wildfire, she scrambled out of bed. She grabbed clothing, photos hanging on her walls, her wedding album, jewelry, and at the last minute, 10 library books.
Im a book lover, I didnt want them to burn, said Marquez, who later realized she had left behind critical documents.
The fifth-grade teacher was one of an estimated 50,000 residents in the Santa Clarita area in southern California ordered to evacuate as the Tick fire burned more than 4,000 acres, destroyed homes and spread at a rapid pace on Thursday night. At a Red Cross center on a college campus 30 miles north of downtown Los Angeles, hundreds of evacuees anxiously waited on Friday for news of when they could return home and if their houses were still standing.
The Tick fire was one of several major fires threatening California this week, as high temperatures and dangerous winds have created hazards up and down the state, leading to mass evacuations and preventive power shutdowns.
It has become normal for us, said Brenda Taylor, 46, who estimated that her family has had to evacuate eight or nine times due to fires in the last two decades. Holding her two small, barking dogs at the evacuation center, she said she had developed a routine when fleeing: grab photos of her children, their college diplomas, awards and other sentimental items. This is life out here, she said.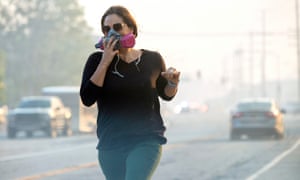 Source: http://www.theguardian.com/us