Sexual politics hasnt really evolved much if Keanu Reeves is hailed as a feminist
Keanu Reeves comes across as a sweetheart, but Im not sure he actually deserves a sainthood for dating artist Alexandra Grant, who, at 46, is still nine years younger than him.
Nevertheless, their recent appearance on the red carpet (Grant, elegant with natural grey hair) was hailed as refreshing, even groundbreaking. So it goes with the twisted maths of male-female age-appropriateness, especially in Hollywood a man seen with anyone who isnt half his age is hailed as a feminist god walking among us.
But why wouldnt Reeves date Grant? She appears to be smart, talented, fun, a catch. But this is beyond one couple this is about the gender politics of success and how society tells successful men that they deserve not only a beautiful, but also a much younger woman.
At least this (smallish age gap) counts as a novelty. Usually, we nosy types find the larger age gaps intriguing. Some such relationships defy the odds and work. Others look unhealthy, especially if one party is not just younger, but also young, period too young for them to have much hope of real agency in their relationship. Then theres that other kind of age gap, with the freaky gendered socioeconomic dimension where snagging a much younger woman becomes as much a signifier of male success as a mansion or a Porsche. Here, the younger woman is less a human being than a male acquisition or achievement. I always wondered why some men were forever moaning nastily about gold-diggers.
It finally dawned that perhaps its because they are intoxicated with this idea of womankind confirming their financial success. Look, everybody, Im so successful, Im being played by gold-diggers! There lies the essential tragedy of the money-obsessed it even contaminates their sexual and emotional life.
For women, the rules are different. Helena Bonham Carter has just been in the news with a much younger partner and youd have thought that witchcraft (bubbling cauldrons, the lot) must have been involved for this 53-year-old to lure this younger man into her aged lair. It barely matters that Bonham Carter is beautiful, talented and successful. That, these days, shed be called a cougar rather than a crone. Still, society decrees that a womans status is rarely improved by her having a much younger male partner; if anything, its sacrificed.
If all this is a grisly tangle of double standards, then the irony and comedy deepens with the realisation that Reeves and Grant (two people who just dig each other) would be likely to attract as much suspicion from some quarters as large age gaps do in others. That, to certain eyes, Hollywood star Reeves has settled for a 46-year-old and, in the process, horribly let himself and all chauvinist mankind down.
If this red carpet incident proved anything, its that the age gap is as socially and sexually politicised as ever.
Dont cry for Samantha, Dave was bad news for Britain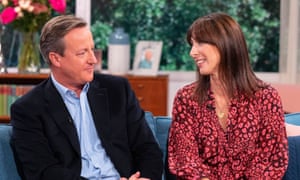 Source: http://www.theguardian.com/us