Hong Kong (CNN)A young protester was shot with a live round as violent protests erupted across Hong Kong on the 70th anniversary of the People's Republic of China on Tuesday, in one of the most chaotic days of almost four months of political unrest.
While it was not the first time police had fired live shots during 17 weeks of unrest, it marked the first use of lethal force since the protests began. Police said at a briefing Wednesday morning that officers fired a total of six live shots during protests across Hong Kong Tuesday.
Protesters and police clashed in at least eight areas of the city, with violent pitch battles lasting throughout the day and late into the evening. Black-clad protesters hurled petrol bombs, set fire to subway station entrances and trash cans, and vandalized government and public buildings.
Police responded by firing multiple rounds of tear gas, rubber bullets and blue dye from a water cannon. Some 180 people were arrested on Tuesday for offenses including taking part in a riot, unlawful assembly, assaulting a police officer and possession of an offensive weapon, according to police.
Use of lethal force
According to his school principle, the protester shot by police underwent surgery for his injuries, Tse Yun-ming, headteacher of Tsuen Wan Public Ho Chuen Yiu Memorial College, said Wednesday.
Current and former students staged a sit-in at the school Wednesday to protest the shooting. They held banners reading, "Police brutality is rampant. They murder students" and chanted, "Hong Kong police murder with intentions." The school said it would provide support to any students who might want to boycott classes later.
The 18-year-old is under arrest for assaulting a police officer and could face further arrests for rioting, a source told CNN. The police officer who fired his weapon at the protesters remains on active duty and per police department procedures, will need to see a psychologist and do a post shooting stress exam.
The protester has not been officially identified by police or the school. He is in a stable condition, the Queen Elizabeth Hospital's media department said Wednesday.
In a statement, police said during dispersal operations a "large group of rioters attacked officers with iron poles, seriously threatening their lives."
Police Public Relations Branch Senior Superintendent Yolanda Yu told reporters that officers "warned the attacker but he continued to violently attack the police."
"Police officers at the scene, whose lives were seriously threatened, fired a live round in order to protect himself and his colleagues," she added.
A video uploaded by Campus TV, a Hong Kong University student media organization, appears to show the moment a police officer shot the man. The video shows black-clad protesters attacking a number of police officers with metal bars and other weapons. It also appears to show the individual striking a police officer with a pole just before the officer deployed his firearm.
Clashes across the city
In a statement, police said protesters "violent acts are spreading and escalating drastically."
"Public safety has been jeopardized and the public order of the whole city is being pushed to the verge of a very dangerous situation," it said.
Throughout Tuesday wildcat protests brought chaos and disruption to neighborhoods on Hong Kong Island, Kowloon and the New Territories. Authorities closed at least 46 subway stations, including the entire Tsuen Wan line, which runs from Hong Kong Island to the northwestern New Territories.
Earlier in the day, thousands of people joined an unauthorized march from the Causeway Bay shopping district on Hong Kong Island. The protests soon turned violent in several districts across the city.
A large blaze was seen in Wong Tai Sin in Kowloon, where a line of motorbikes caught fire. In Tsim Sha Tsui district, large numbers of protesters wearing black faced off with riot police. Trash cans were set on fire and placed in front of the closed subway station, and police responded by firing more than 20 rounds of tear gas.
In Sham Shui Po, protesters set fire to a subway entrance and pointed fireworks and lasers at a government building.
Police said protesters threw corrosive liquid onto people in Tuen Mun in the New Territories, "causing burn injuries to the officers and reporters."
A total of 104 people were hospitalized because of protests as of 7:30 a.m. Wednesday, the hospital authority said.
Significance of October 1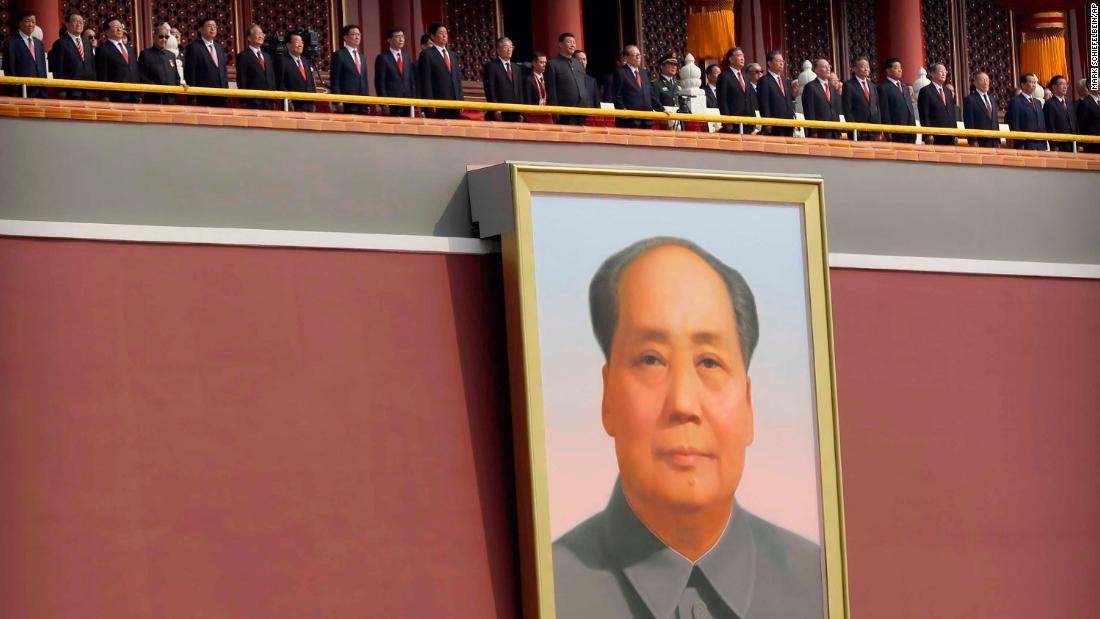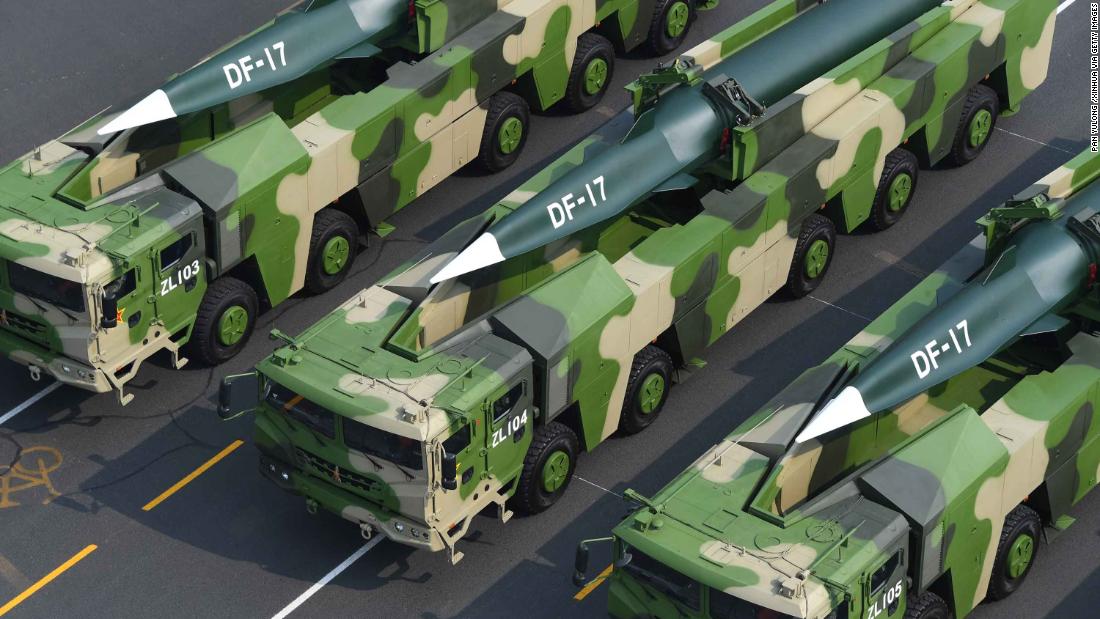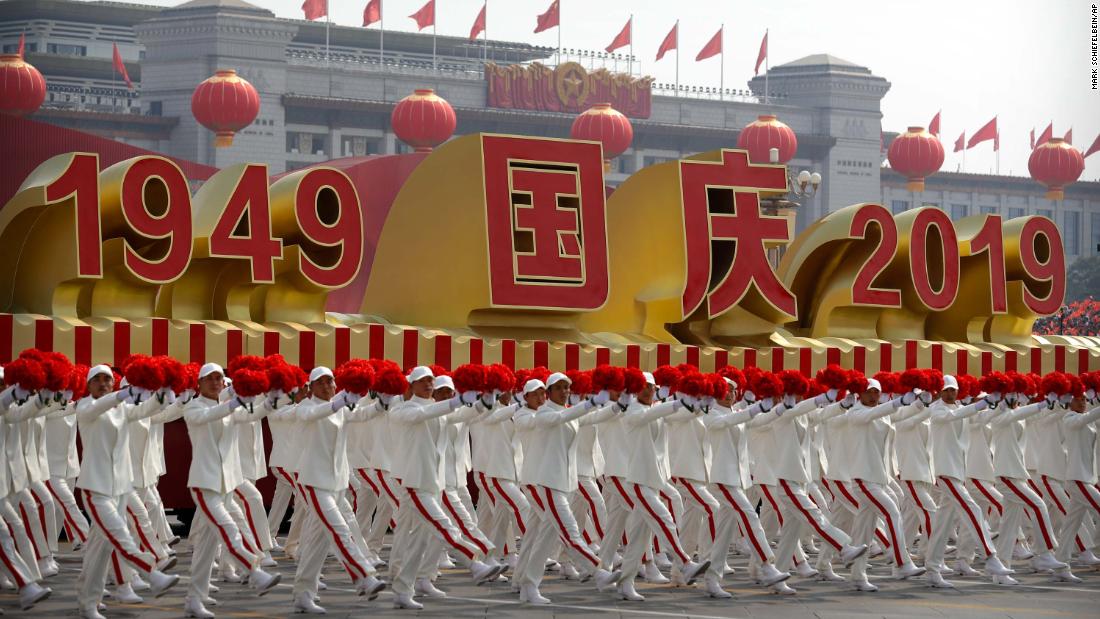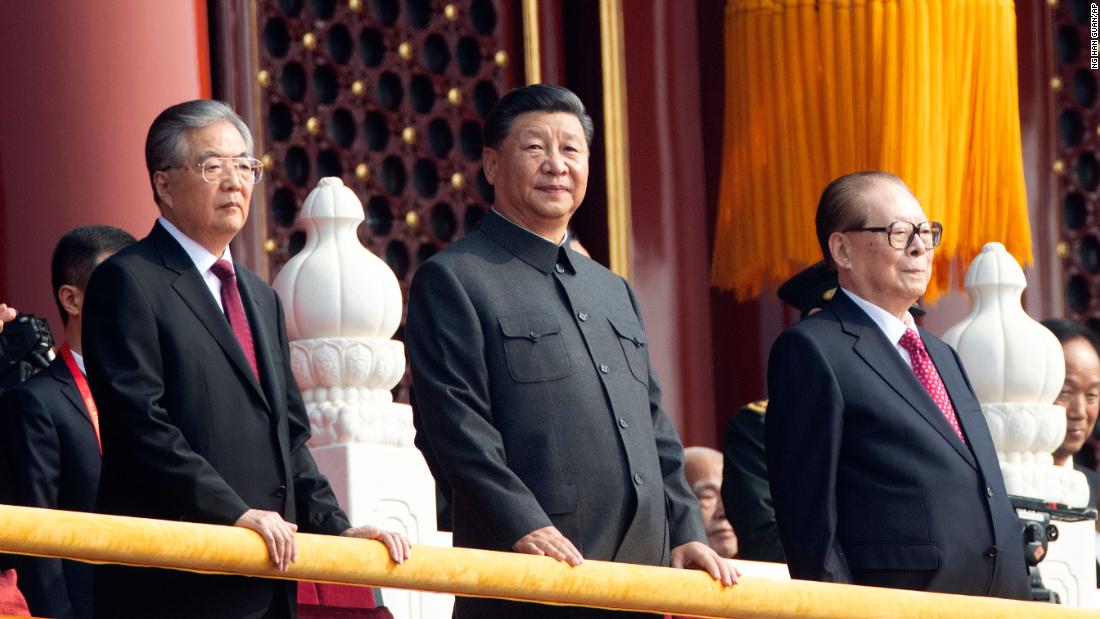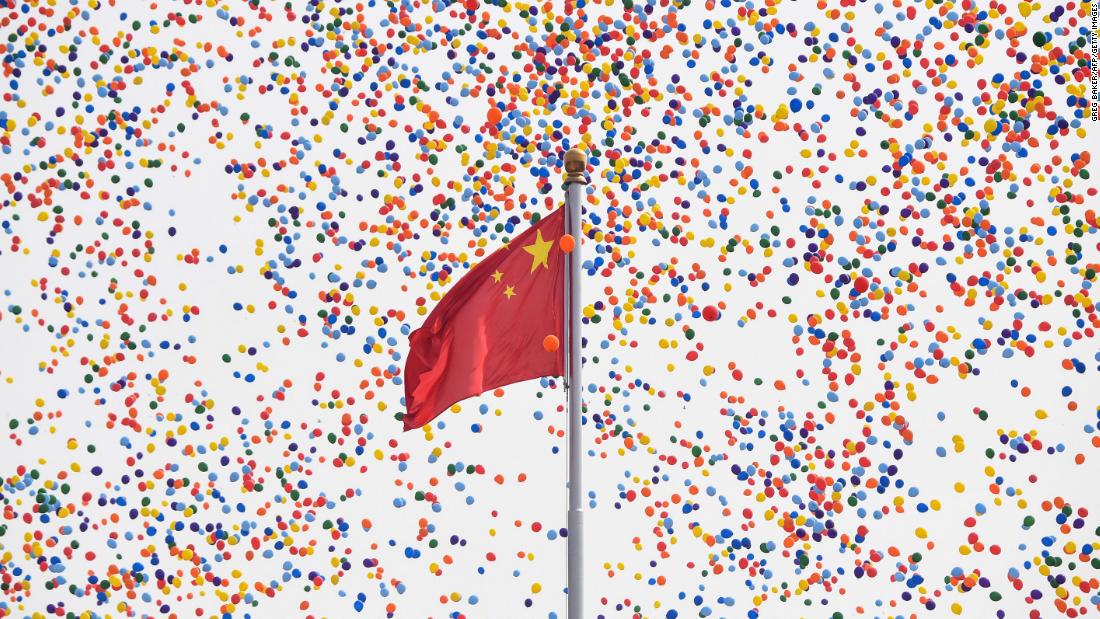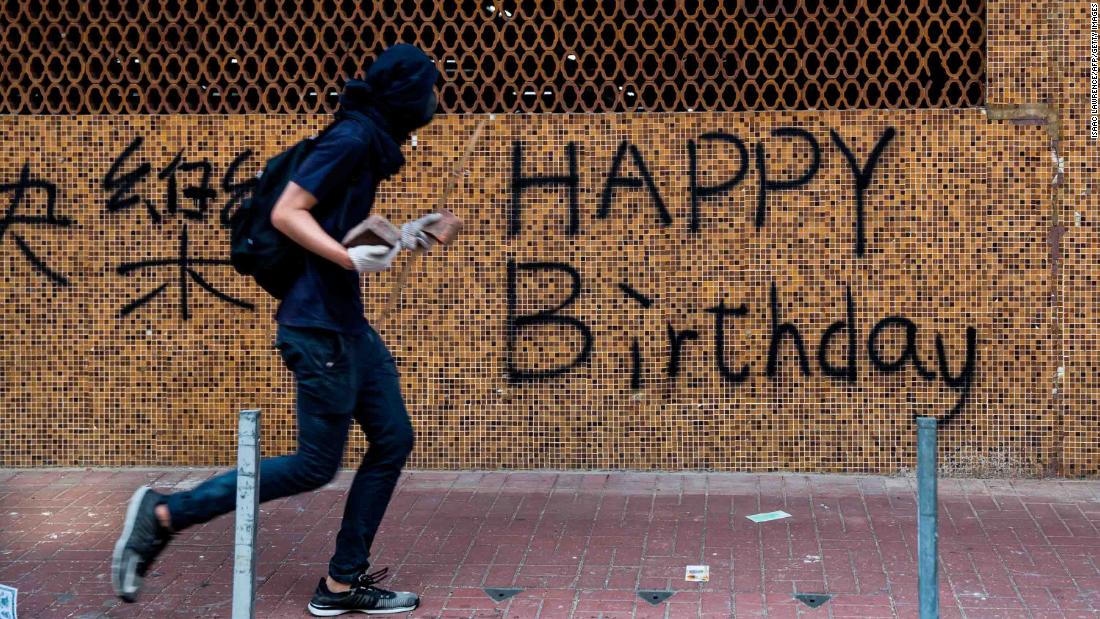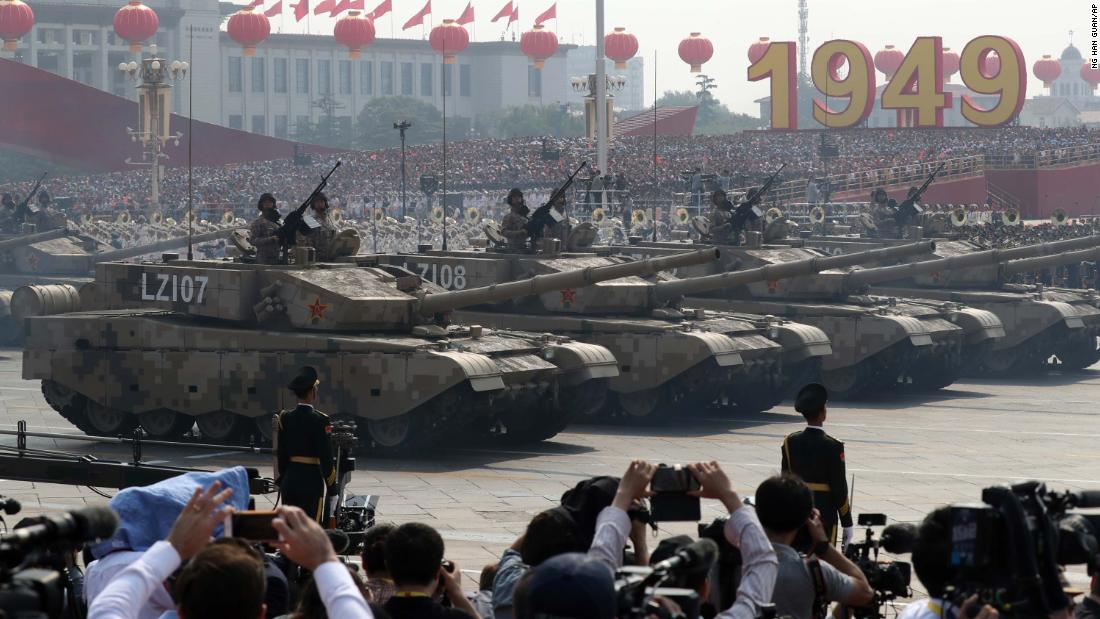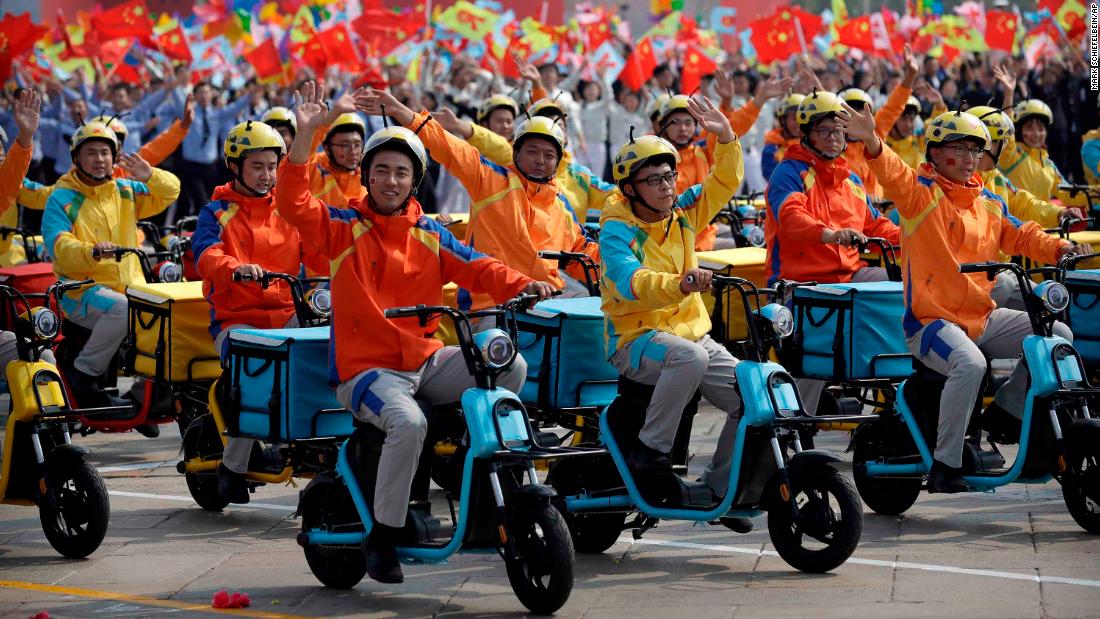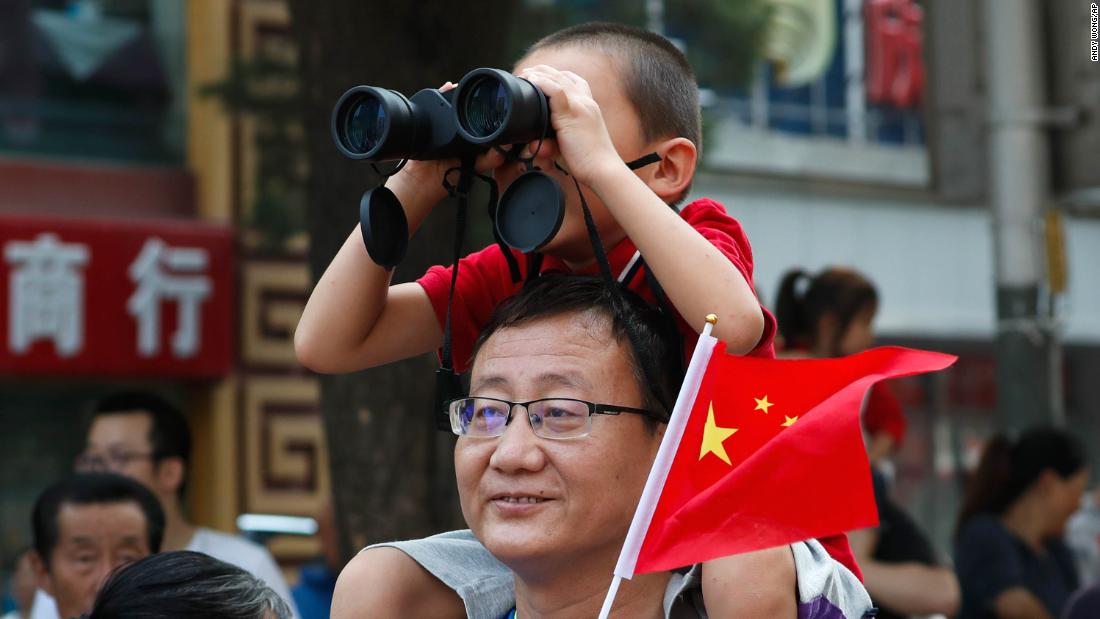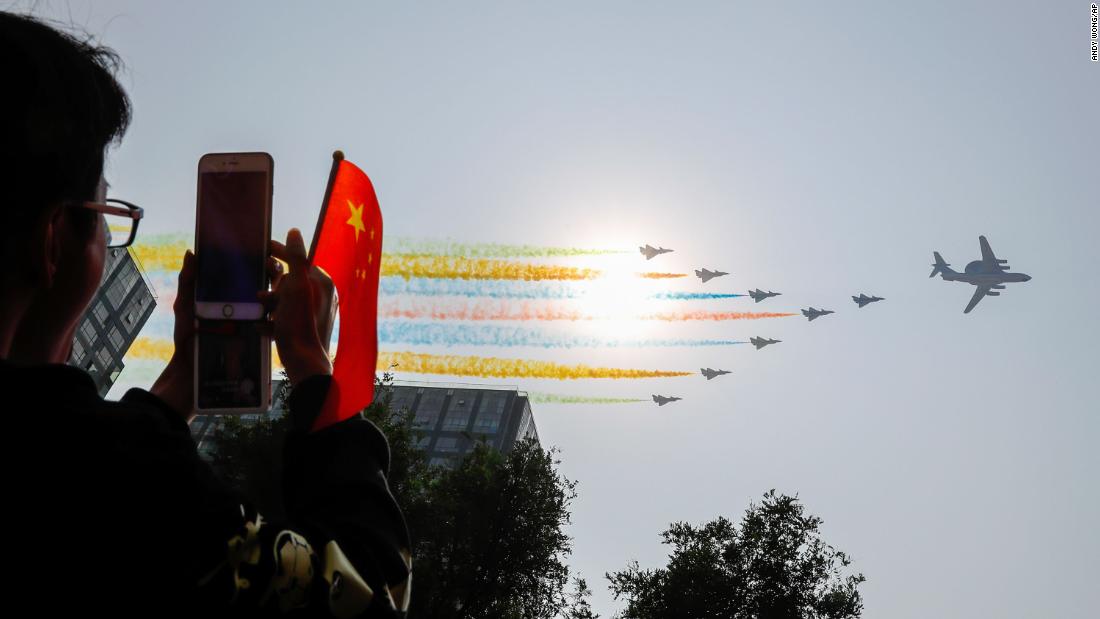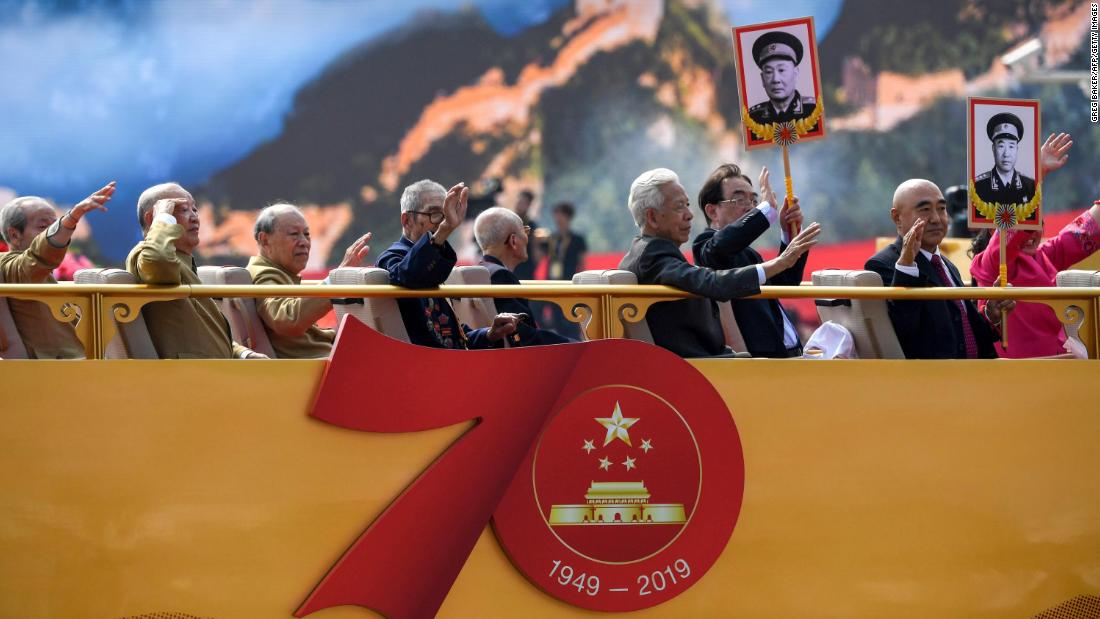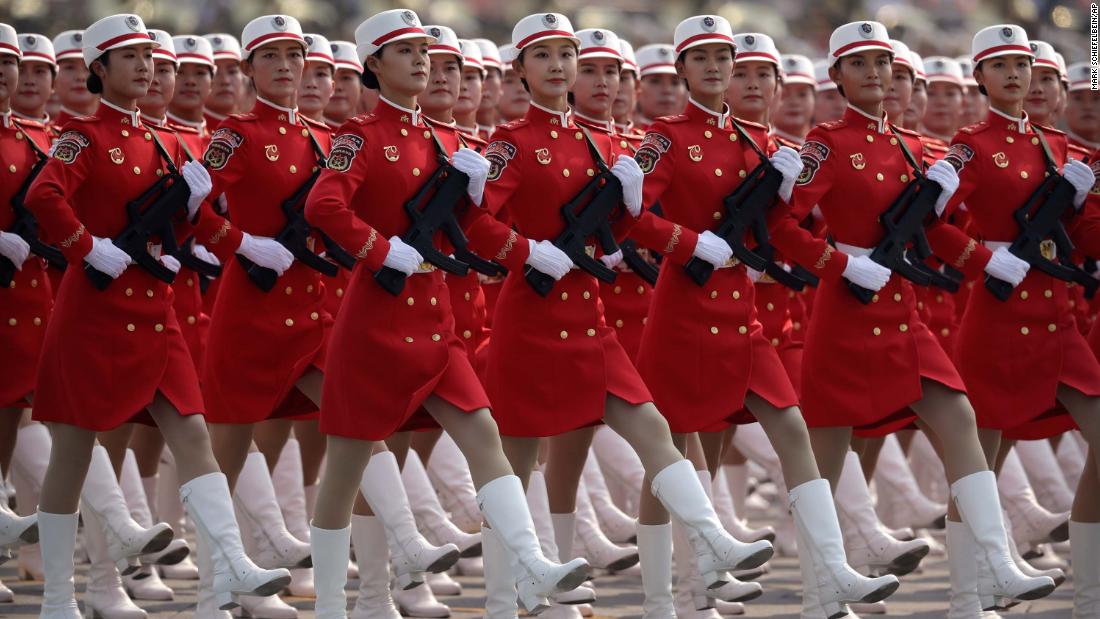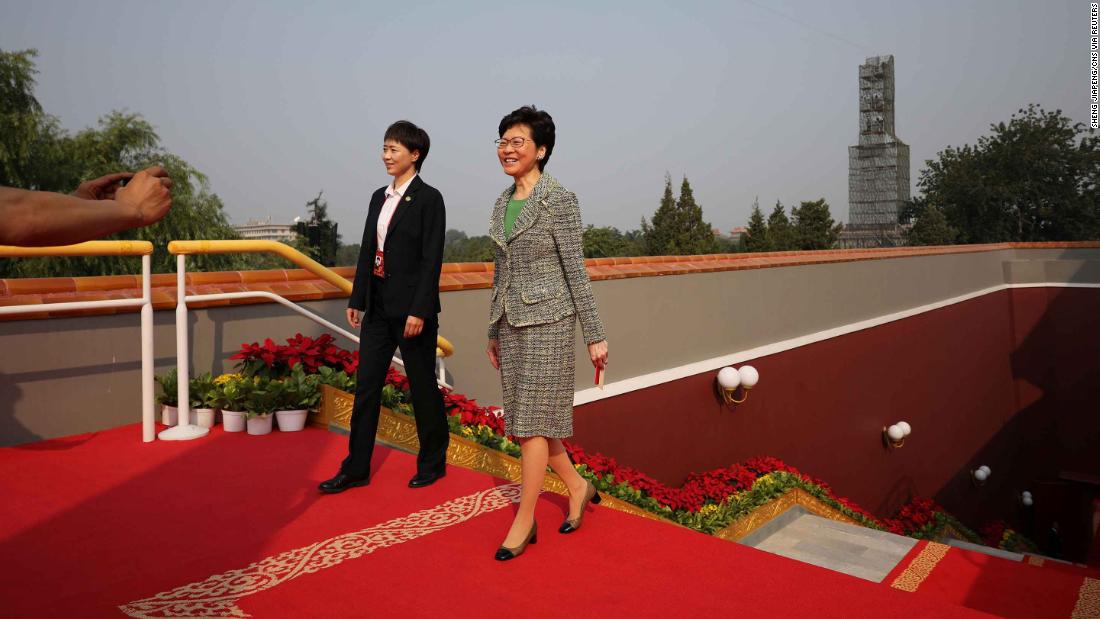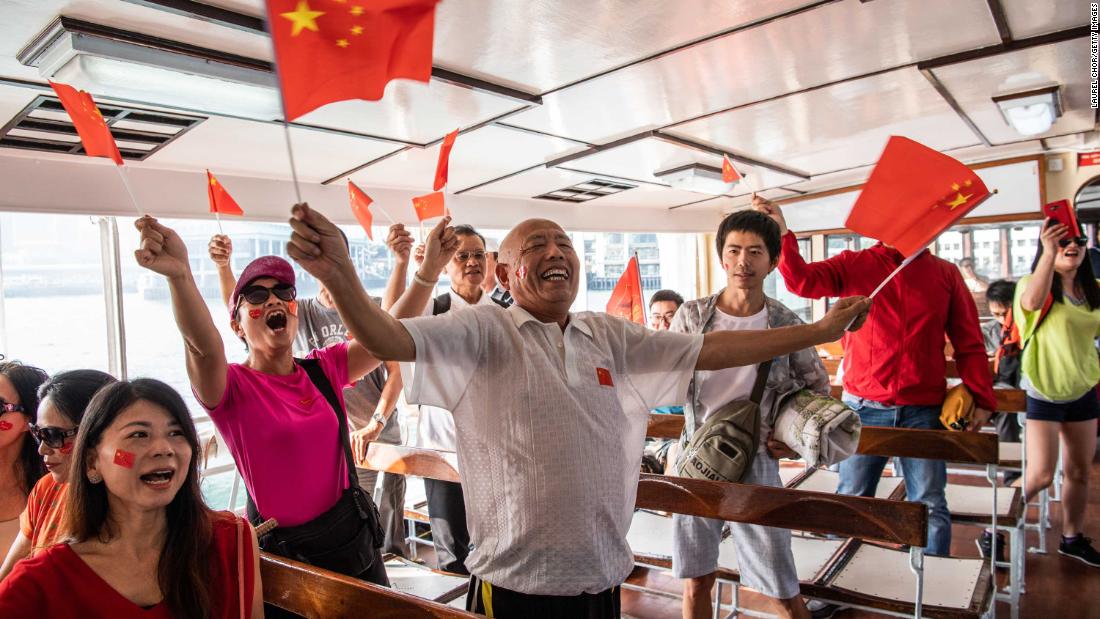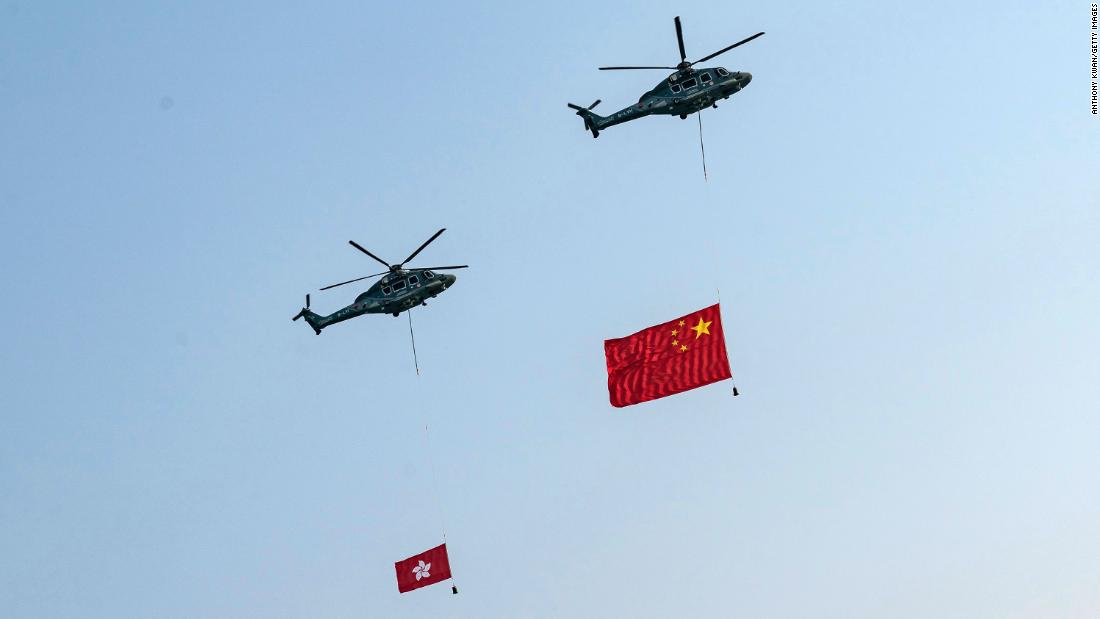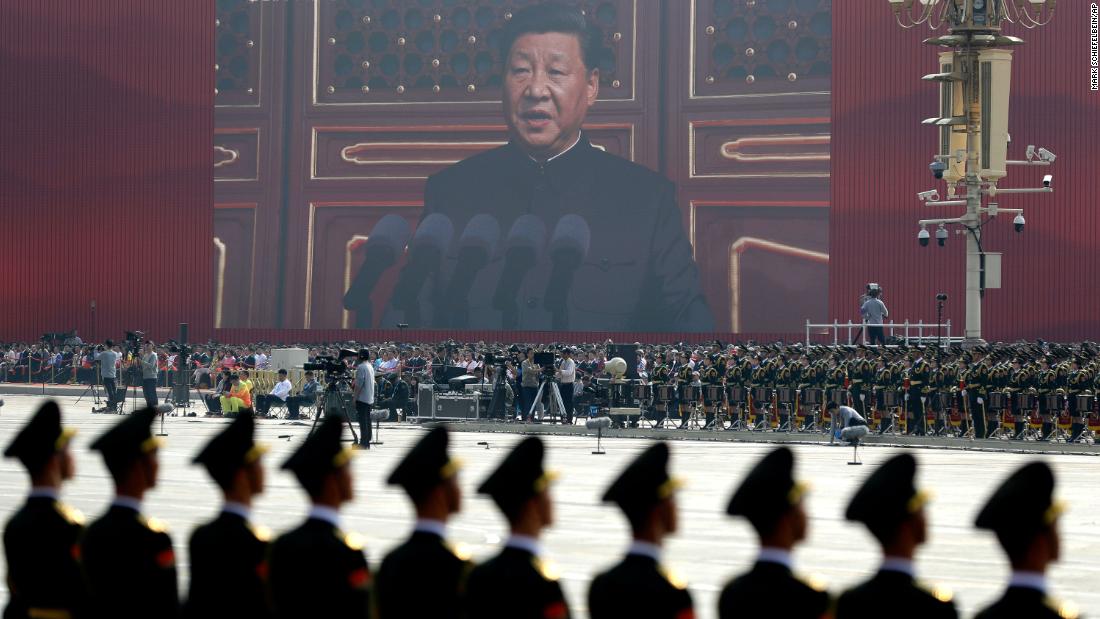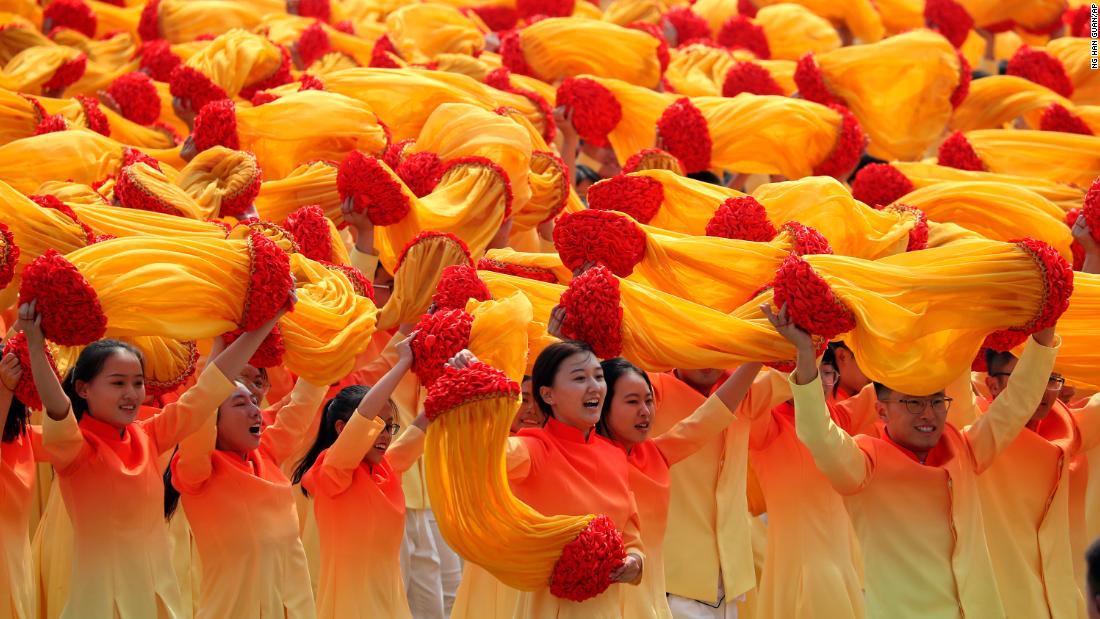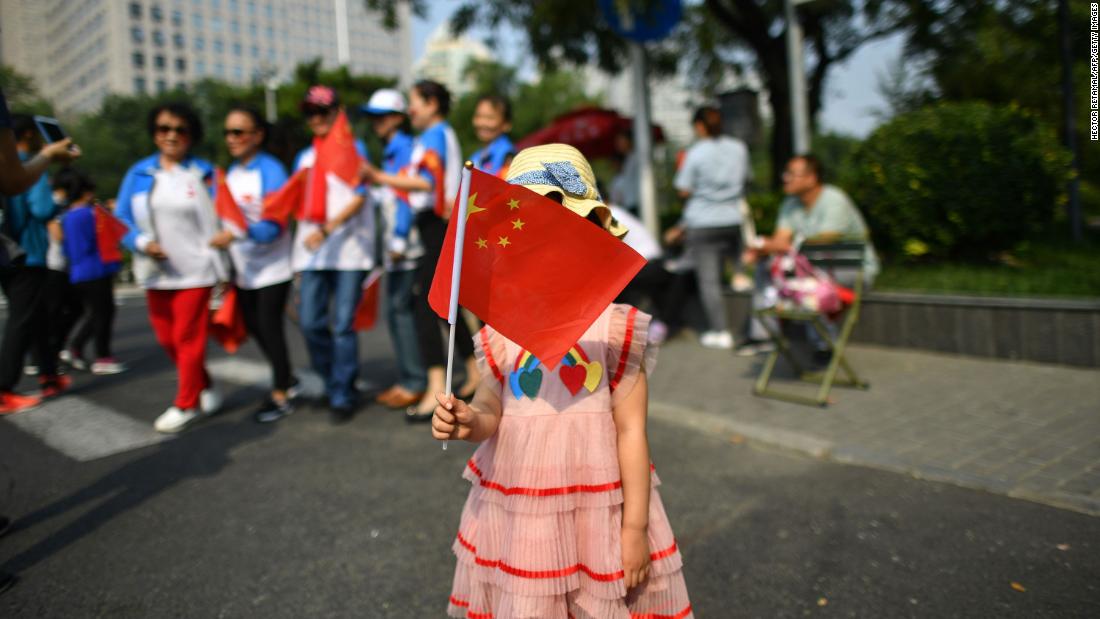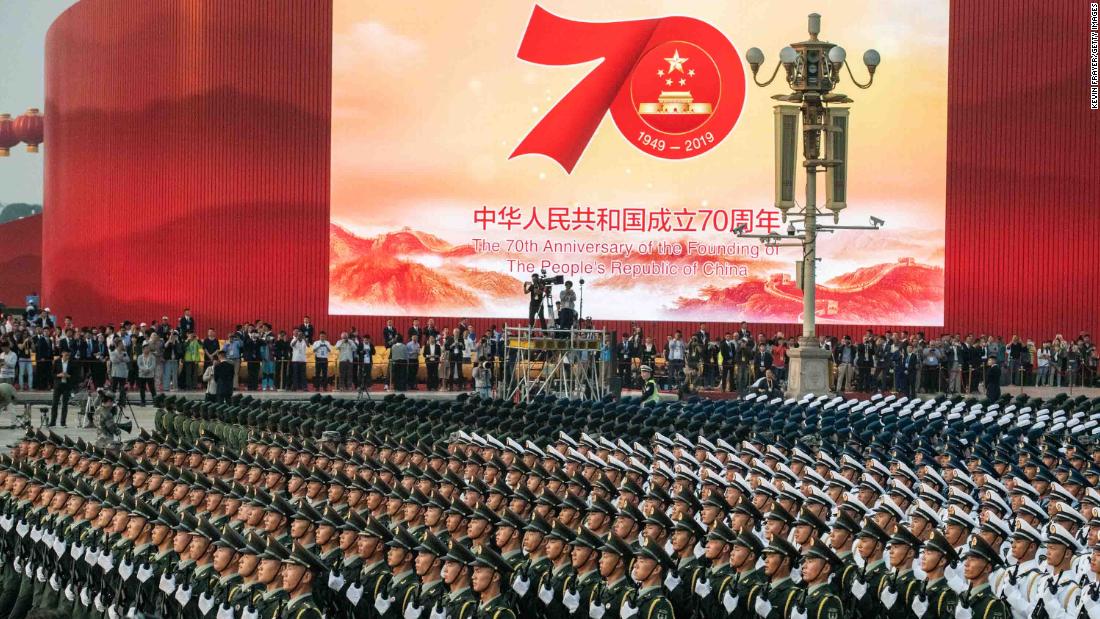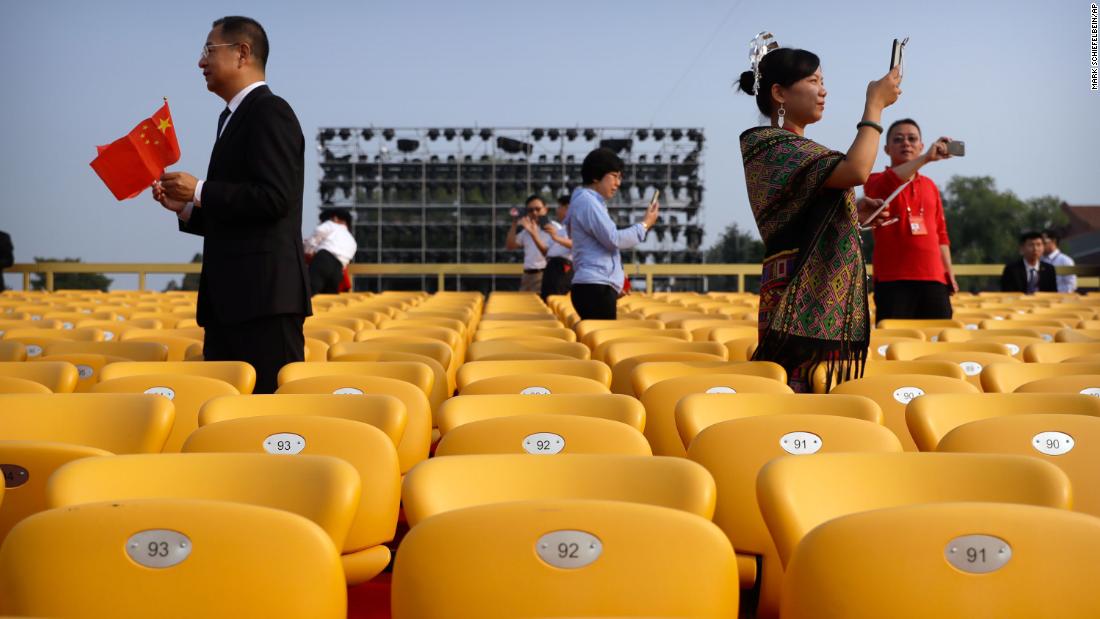 For months, people in Hong Kong have speculated that October 1 could be a deadline for Beijing to take action to end the ongoing protests.
The anniversary is a significant milestone, and China's leaders will not want it overshadowed. Beijing officials have hinted at the possible deployment of troops in Hong Kong, and Chinese paramilitary police have recently held large drills in the bordering city of Shenzhen.
The Hong Kong government has said there is no such deadline for action. In audio
leaked to Reuters
in early September, Hong Kong Chief Executive Carrie Lam can be heard reassuring business leaders that "they and ourselves have no expectations that we could clear up this thing before the 1st of October."
Source: http://edition.cnn.com/