Intergenerational incubator and creative writing program Twelve Literary Arts seeks to to inspire young people to participate in democracy
Hey yall, Im Tai, 15-year-old Tai-Charle Walker says into the single microphone. Hi Tai! shouts back the audience for tonights spoken-word open mic event. What am I made of? Tai begins, and then, to cheers, she lights whatever trepidation she has on fire: You asked a simple question, but get many different complex answers. I myself am made up of pain.
Pain from the historical trauma of slavery, the crooked cops nightstick, violence on her street. I am the moon everybody wants to get close but once they actually do they have no clue what to do You ask me what I be? Between you and me, youll never know what Ill be.
Over the course of nearly two hours, nearly all of the roughly 25 attendees, almost entirely people of color aged 15 to 21, take a turn or two at the mic. Poems crackle with fury and wonder, sparking cheers and several hmms of deep recognition as they decry racial injustice, thwarted dreams or just straight up teenage anxiety.
The session is an after-school fellowship for high school students organized by Twelve Literary Arts, an intergenerational incubator and creative writing program in the greater Cleveland area.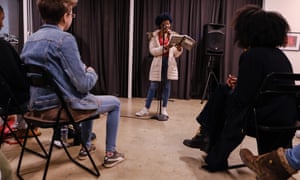 Source: http://www.theguardian.com/us