It is no surprise that Real Madrid and Juventus are said to be coming for Chelseas Kant the Frenchman has conquered all before him over the last four years
Remember the NGolo Kant riots of 2018? Those were high times, man. It seems strange now but this time last year one of the key issues in the Premier Leagues endless conversation with itself, and a source of febrile ambient rage well beyond the Chelsea fanbase, was the apparent misuse of Kant by overseas book-learning type Maurizio Sarri.
The spark in this tinderbox was the decision to play Jorginho as the deeper of Chelseas midfield pairing. As part of this shift Kant was moved a few yards from his previous starting position. He was encouraged to make a number of additional forward runs. Cue: outrage.
It was a strangely protective fury. On radio shows, in newspaper columns, on the swirling brain-thoughts of social media, the angry talking heads leapt up. There was a sense of gallantry, defending Kants honour, like pipesmoking 1950s fathers shooing a motorbike gang from the front porch while their teenage daughter cowers at the screen door. Nobody puts NGolo in the corner!
And yet the strangest thing about the Kant uprising was: it wasnt really a thing. Sarri went on to all but destroy Chelsea by finishing third, winning a European trophy, giving Callum Hudson-Odoi 26 games and behaving with discrete good grace while being yelled at by Spam-faced men with weirdly overwrought opinions on the precise calibration of the two-man midfield pivot.
Kant and Jorginho, intelligent footballers, made it work well enough. Fast forward a year and Chelseas two best wins of the season, away at Lille and Southampton, have coincided with their resumption of a two-man midfield. The news that Kant will probably miss Saturdays game against Newcastle after twanging his hamstring with France looks the biggest obstacle to a resumption of their recent surge.
Plus, there has been some other news this week. Real Madrid and Juventus have let it be known, through the usual channels, that they may just be coming for Kant. Not that anyone really believes these stories, product of what the authors of The Club, a brilliantly detailed anatomy of Premier League shenanigans, describe as the gossip-industrial complex.
There are obvious holes in the Kant to Madrid yarn. First Chelsea arent selling anyone and secondly the article on the DesMarque website states that Kant dreams of wearing white and leaving Chelsea. He believes they do not aspire to winning important titles with Frank Lampard.
Yeah, right. Does this sound like the NGolo that you know? What were his exact words? He didnt like the deal but he has to go along with it?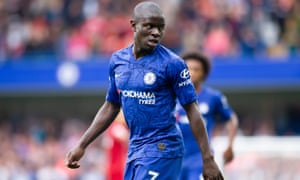 Source: http://www.theguardian.com/us