The quest to understand the toxic effects of fighting wildfires has taken on a new urgency in California
Searching for survivors in the wreckage of last years deadly Camp fire, the Marin county battalion chief, Jeremy Pierce, had to hear and feel his way through the debris. Black, murky smoke had disappeared entire streets in and near the small California town of Paradise.
It was daytime but you thought it was night, he said.
Pierce, who has been fighting wildland fires for 28 years, knows how to navigate around smoke. You have to find pockets of clean air, he said, and keep going until you cant any more.
Pierce has used this technique at the Camp fire, the Carr fire before that, and the Kincade fire hes been battling in the past weeks. He knows that the toxic vapors canstick in his system long after the flames have died down and the adrenaline has faded.
Over the past decade, scientists have been working to better understand how firefighters exposure to smoke and chemical vapors affects their long-term health. In California, the researchers work has taken on a new urgency as increasingly ferocious fires burn through wilderness and development alike, unleashingunprecedented amounts of gases and particulate upon those battling the blazes.
We know that firefighters have pretty intense exposures under those conditions, said Rachel Morello-Frosch, an environmental scientist at the University of California, Berkeley. An analysis she released in July found that firefighters who fought the October 2017 Tubbs fire, which raged for more than three weeks through nearly 37,000 acres in Californias wine country and killed 22, came home with heightened levels of mercury and other toxic chemicals in their blood.Blood samples from 149 firefighters deployed to Tubbs showed higher rates of mercury compared not only with members of the general public, but also with other firefighters who werent deployed.
This was just an initial, pilot study, Morello-Frosch said. Still, it seemed to validate what many firefighters already suspected: those working in regions referred to as wildland-urban interface, where residential areas blend into wilderness, face elevated health risks.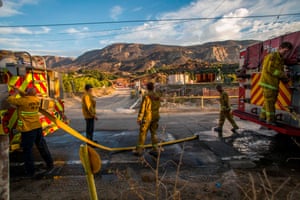 Source: http://www.theguardian.com/us