Why would a statue in the golden pharaohs tomb portray him with breasts? And why does his face look so feminine? As crowds flock to the British show, we investigate a story to rival the infamous curse
He may not have the whip, the hat, the gun and the dusty old leather jacket, but Nicholas Reeves has a theory that is straight out of the Indiana Jones movies. Reeves, a British Egyptologist, has written a string of highly respected books, most notably The Complete Tutankhamun, and his idea certainly harks back to the golden age of treasure hunting. It is far-fetched, undoubtedly, but then thats how Indys greatest adventures always started.
As the crowds flock to Tutankhamun: Treasures of the Golden Pharaoh a recent arrival in Britain after breaking attendance records in France Reeves believes they are being sold a dummy: that these stupendous objects were not made for the Egyptian boy king and his journey into the afterlife at all. So who were they for? I reckon, says Reeves, almost all the burial equipment for Tutankhamun was originally made for Nefertiti.
It is a sensational claim. Do these extraordinary relics really belong to the Egyptian queen? What we do know for certain is that Howard Carters discovery of Tutankhamuns tomb in 1922 is the most celebrated moment in archaeology. It even sparked the legend of a curse, whose alleged victims include Archibald Douglas Reid, a radiologist who supposedly died mysteriously after X-raying the mummy; Arthur Mace, one of the dig team, believed to have succumbed to arsenic poisoning; and Richard Bethell, Carters secretary, thought to have been smothered in his bed.
If Reeves is right, even this needs revising: we should instead fear the Curse of Nefertiti. Reeves thinks it is the very opulence of Tutankhamuns tomb that has stopped archaeologists digging deeper. The gold, he says, has just dazzled everyone. It was certainly what entranced the adventurers who first peered into the miraculously unspoiled tomb.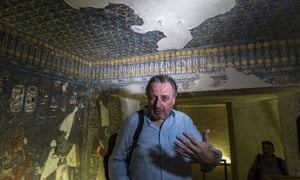 Source: http://www.theguardian.com/us