Netflixs latest binge watch focuses on a mother dealing with her superpowered son but we really need to talk about that big twist
The Taiwanese-American film producer Dennis Liu was intimately aware of the lack of diversity in Hollywood, and of the difficulties people of color faced in getting their projects greenlit. Thats why, after coming up with the idea for Raising Dion, he created a one-issue comic and a two-minute short film to drum up interest for a live-action adaptation in 2015. The idea soon caught on, and what resulted from Lius unconventional marketing is Netflixs nine-episode Raising Dion, written by Carol Barbee and directed by Liu himself.
The story at the center of Raising Dion has struggling mother Nicole (Alisha Wainwright) trying to figure out how to raise her suddenly superhuman son Dion (JaSiah Young), all while job-hunting and mourning her dead husband Mark (Michael B Jordan). Its a family drama wrapped up in the paranormal, and one that answers the question of what a superhero origin story might look like if told from the point of view of Martha, rather than Clark, Kent.
With Marvel and DC completely saturating the film market, its notable that smaller publishers are finding homes for their projects on TV streaming platforms. Raising Dion follows in the footsteps of Amazons The Boys and Netflixs Umbrella Academy, telling a different kind of story of a rather unique and cheerful eight-year-old superboy. Lets break down what works, what doesnt, and whats next for Netflixs latest comic book bid.
Small-screen representation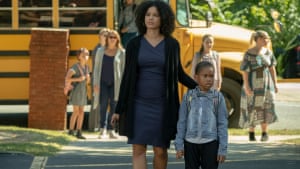 Source: http://www.theguardian.com/us