Two goals from Son and one each from Giovani Lo Celso and Christian Eriksen gave Tottenham a comfortable 4-0 victory at Red Star Belgrade
Son Heung-mins anguish at Everton on Sunday knew no bounds and it is no exaggeration to say that on Monday, as the guilt at his role in Andr Gomess horrific injury continued to consume him, the Tottenham forward could not even think about this Champions League test against Red Star Belgrade.
Mauricio Pochettino and the Spurs dressing room closed ranks around him. They told him that in no logical world should his trip have led to such damage to Gomess ankle and they believed that the best medicine for Son was to get straight back into the saddle. There was no point in moping.
On a night when Spurs registered their first away win of the season, it was Son who provided the cutting edge. His sixth and seventh goals of the season in the second half allowed his team to coast to a victory that has put the last 16 of the competition within touching distance. For them, the equation is simple. If they can beat Olympiakos at home in three weeks time they will reach the knockout rounds for the third season in succession.
Spurs could temporarily forget their domestic woes as, not for the first time, the Champions League provided a tonic. Giovani Lo Celso, on his full debut for Spurs, scored the first goal, a moment that embellished a performance of no little slickness, and Christian Eriksen, who entered as a substitute, added a late fourth.
Pochettino could enjoy productivity from all three of his summer signings. Never mind Lo Celso, Tanguy Ndombele was excellent and even Ryan Sessegnon, who came off the bench, supplied the assist for Eriksen.
| Pos | Team | P | GD | Pts |
| --- | --- | --- | --- | --- |
| 1 | Bayern Munich | 4 | 11 | 12 |
| 2 | Tottenham Hotspur | 4 | 4 | 7 |
| 3 | Red Star Belgrade | 4 | -10 | 3 |
| 4 | Olympiacos | 4 | -5 | 1 |
Red Star rued the squandering of two excellent first-half chances but Spurs simply had more quality. They hogged the ball, they led the shot count 17-5 and, at the end, there was the sight of Son and Pochettino offering their thanks to the travelling support.
Sons goal celebrations were subdued. The first was a praying gesture and he revealed that it was his way of showing respect to Gomes. I didnt want to celebrate because I just want to respect the situation, he said. Its been a really, really tough few days. Im really sorry for the accident but I had to focus for the team. I want to wish Andr Gomes to get well soon.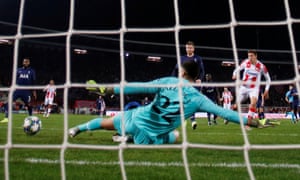 Source: http://www.theguardian.com/us