A new book uncovers fresh allegations of the presidents inappropriate sexual behaviour
We all know the story by now. In 2005, Donald Trump was caught on tape bragging that his fame allowed him to sexually assault women. In 2016, as he was running for president, that recording, the so-called Access Hollywood tape, was made public, resulting in a stream of women coming forward and alleging that Trump had groped or otherwise sexually assaulted them. He was elected anyway; the womens stories didnt seem to matter. But they should.
If we have understood one thing in the two years since actor Alyssa Milano tweeted #MeToo, sending the then 11-year-old phrase viral, it is that when women are not listened to, men in positions of power are left free to abuse their authority. When the accused abuser is the president of the United States, those allegations and how they are handled matter all the more. Thanks to his bully pulpit, Trumps words and actions resonate far beyond the deeds themselves.
And then there is the question of collective responsibility. If we avert our eyes from the allegations of Trumps abuse because we find it distasteful, we tacitly endorse his behaviour. When we dismiss or ignore his objectification and denigration of women, we legitimise it. Leaving these attitudes and actions unchecked allows them to proliferate.
When the recording was released, Trump brushed it off as locker-room banter. A short time later he denied having had affairs with porn star Stormy Daniels and Playboy model Karen McDougal. We, however, conducted more than 100 interviews in the course of researching our book All the Presidents Women and found that the language and the affairs were not mere aberrations. Since his campaign, Trump has already faced allegations from nearly two dozen women. Our book reveals another 43 allegations, bringing the total to 67 accusations of inappropriate behaviour, including 26 instances of unwanted sexual contact. In short, far from being occasional or accidental, his alleged misconduct with women was regular and widespread. We found that Trump repeatedly and systematically engaged in aggressive sexual pursuit of women over many decades and that his alleged behaviour followed discernible patterns. One of those was a predilection for young models.
In the early 1980s, NaKina Carr was working in New York for Oscar de la Renta and was backstage in the models dressing room at one of his fashion shows when she heard Trumps name mentioned for the first time. She was getting ready when all of a sudden she heard someone shout: Put your robes on, here he comes!
At 21, the Texas native was already on the older side for a catwalk model, who generally start working when they are in their teens, but she was new to New York and had no idea what was going on. I didnt know what they were talking about but suddenly everyone threw on their dressing robes, Carr said, speaking publicly about her memories of Trump for the first time. Carr asked another woman what was wrong, and she pointed to a man across the room. She said: Hes the money man. He can do whatever he wants Unless youre a gold digger, you avoid him at all costs.
Trump walked in as if he owned the place, according to Carrs account, with a pregnant Ivana, his first wife, trailing behind him. He threw his arms wide open and said: OK now ladies, drop em, Carr said. The one thing Ill always remember is the dejected look on Ivanas face in the dressing room. I thought how horrible, that he would treat her in this way.
As Trump strode around the dressing room, Carr concealed herself behind a pillar, incredulous that someone would be so crude. The other girls were obviously afraid of him, like they knew he meant it and it wasnt a joke, she said. The model was later assured that she was not Trumps type at the time the rumours among modelling insiders was that he preferred younger women. If youre over 21 you dont have to worry, Carr said she was told.
Those rumours appear to be backed up by other accounts of Trump during that era. Model Barbara Pilling was not yet 18 when her booker took her to a party a few days after her arrival in New York, in the summer of 1989. Trump was also in attendance. Pilling didnt know who the real estate developer was, but she noticed him looking at her. I could see him eyeing me up and watching me, she said. She claims that once he caught her gaze, Trump started talking to her. I remember him saying: Oh, how old are you? And I said 17, and he said: Thats just great; youre not too old, not too young.
Pilling said Trump tried to make small talk with her for a while, but his gaze kept veering to her chest. He asked her if she liked where she was living and said he knew great places she could stay if she didnt. Trump offered to show her the city and to take her to dinner. He told her she was gorgeous, like a dark-haired Marilyn Monroe, and asked her if she would ever consider going blond. I was starting to feel uncomfortable, Pilling remembered. Its not a nice feeling for a young girl to have an older man making advances on her. Another model standing nearby whispered to Pilling that Trump clearly liked her, and explained who he was. I wasnt impressed by it. I mean, I was only 17.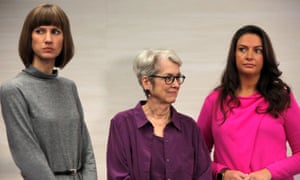 Source: http://www.theguardian.com/us