Rightwing parties reject proposals as lagoon city faces worst flooding in 53 years
Venetos regional council rejected a plan to combat climate change minutes before its offices on the Grand Canal, in Venice, were flooded, it has emerged as the city continues to battle high water levels.
Venice has been hit by recurrent flooding since Tuesday, with 70% of the lagoon city engulfed on Friday morning as the acqua alta, or high water, level reached 1.54 metres amid heavy downpours.
On Tuesday night, as Veneto councillors were debating the climate emergency in Ferro Fini Palace, Venice experienced its worst flooding since 1966.
Politicians from the regional councils majority rightwing parties: the League, Brothers of Italy and Forza Italia, rejected amendments to fight the climate crisis in the 2020 budget that were proposed by the centre-left Democratic party.
Sharing pictures of the room as water entered, Andrea Zanoni, the Democratic partys deputy chairman of the councils environment committee, wrote on Facebook: Ironically, the chamber was flooded two minutes after the majority parties rejected our proposals to tackle climate change.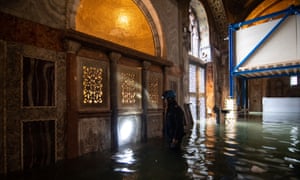 Source: http://www.theguardian.com/us